IPVanish was founded in the United States in 1999 (from a privacy standpoint we aren't thrilled about using a VPN based in the US but they do have a strict no-logs policy) and they currently have 1,000+ servers in more than 60 countries.
IPVanish initially focused on their Windows applications, but have grown to include apps on a variety of platforms: macOS, iOS, Android, Linux, Fire TV, and Kodi.
While the company owns most of the servers, they do lease hardware and data centers in some areas.
Other than being located in the US, IPVanish scored very well in our review when it came to security. They use a 256-bit AES encryption to help safeguard sensitive data, includes a kill switch and has IP and DNS leak protection.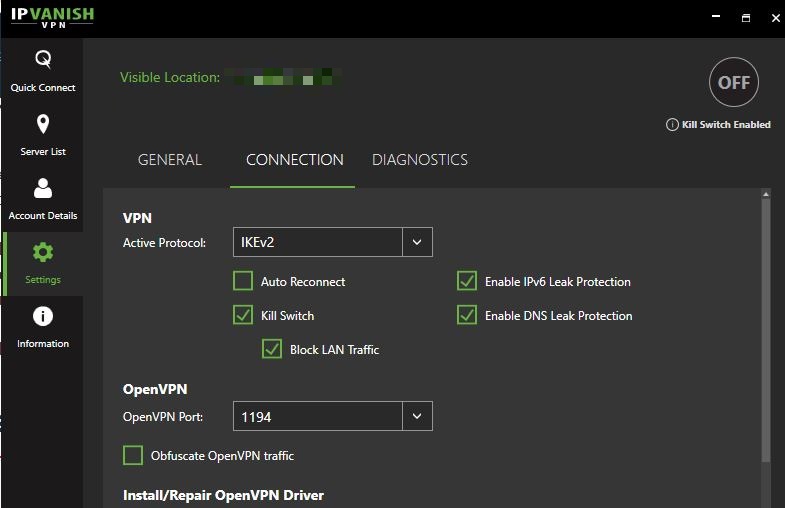 Of course, no VPN review is complete without testing it on Netflix and other streaming sites to see if it can bypass the geo blocks. When we tried watching with "The best US Server" we got the Netflix proxy error. We didn't give up that easily. We connected with another server and had no issues streaming Netflix for a few hours.
We weren't as fortunate when we tried watching Netflix in other countries. Netflix inthe UK, France, Italy, and Australia were all blocked regardless of which servers we tried to use.by Denise Sullivan | Aug 22, 2019
Pros
Clean, stylish interface
Variety in servers — over 1,000 in 60+ countries
Extremely fast
Zero-logs policy
Offers SOCKS5 web proxy (not encrypted)
Can run on up to 10 devices at the same time
Unlimited server switching
7-day money-back guarantee
Cons
Lacking live customer support, but has insightful pre-written categories
Unreliable for unblocking regional Netflix
Important to know
Country of Incorporation: United StatesFounded date: 2012Kill switch: Keep logs: NoDevice per license: 10Refund policy: 7 days guaranteedPlatformsWindows Mac Linux Android Ios Windows-PhoneRouter
Contact Details
IPVanish VPN Email:support@ipvanish.comIPVanish VPN Website:www.ipvanish.com
Speed8.3
When we checked our speeds without the VPN, we experienced quick response time, as we'd expect from our local server. However, when we turned on IPVanish and selected various countries, we noticed a significant change. As expected the server closest to our home location worked fastest.

As we could watch Netflix using a US-based server, we decided to check for buffering issues. We noticed right away that despite connecting to Netflix quickly, it took almost a minute for the page to fully populate. However, once the page loaded and we could access our streaming options, starting and watching a show went without issue.
| | Download speed reduction | Upload speed reduction | Ping time to Google.com | Average time to connect (seconds) | Unblock successful for |
| --- | --- | --- | --- | --- | --- |
| IPVanish VPN | 37% (UK) | 30% (FRA) | 363.25ms | 10 | |
| Average score of top 10 VPNs | 19% (UK) | 17% (FRA) | 25ms | 9 | |
Why Most Speed Tests are Pointless & How We Correctly Test VPN Speeds
Speed determines how fast content uploads, so if you're torrenting or streaming, you want the speed to be somewhat identical to your regular internet speed. Since a VPN encrypts your data, it usually takes a bit longer to send your data back and forth, which can slow down your connection. However, if your ISP deliberately slows down your connection (also known as throttling) a VPN might increase your internet speed. Testing a VPN is somewhat pointless because new servers pop up and affect speed. Your speed can also differ according to your location, so your speed test might not match ours. Having said that, we tested the speed in numerous locations to provide you with the average.
Servers9.6
IPVanish has over 1000 servers in 60 countries. All of these servers offer multiple IP addresses, totaling over 40,000 IP addresses for consumers to use. We loved the fact that we could choose which city to connect with.

One of the things we liked about IPVanish was the transparency when it came to server load. While it didn't show up on the IPVanish application we used, we could find the information if we logged into our account online and selected the server tab. Doing this in advance of signing on in the application helped to assure we connected to a server with a minimal load.

IPVanish offers a wide array of connection protocols. For low-risk, speed intensive tasks, such as streaming Netflix, the suggested protocol is Point-to-Point tunneling. However, as it is not as secure as other methods, IPVanish uses OpenVPN protocols whenever possible.
Server Locations
United StatesAlbaniaAustraliaAustriaBelgiumBrazilBulgariaCanadaCosta RicaCroatiaCyprusCzech RepublicDenmarkEl SalvadorEstoniaSee all supported locations…
The Big Mistake When Comparing Number of Servers and What to Really Look For
The ratio of servers to countries is an important factor to look at when choosing a VPN. Only paying attention to location or number of servers can get you in trouble. More servers generally means faster speeds, but if VPN X has a few more servers than VPN Y but twice as many users, VPN X will typically have slower speeds. Ideally, you want a VPN that has a lot of servers in every location. This way you won't have to worry that server/country that you want will be overburdened and running slow
User Experience9.6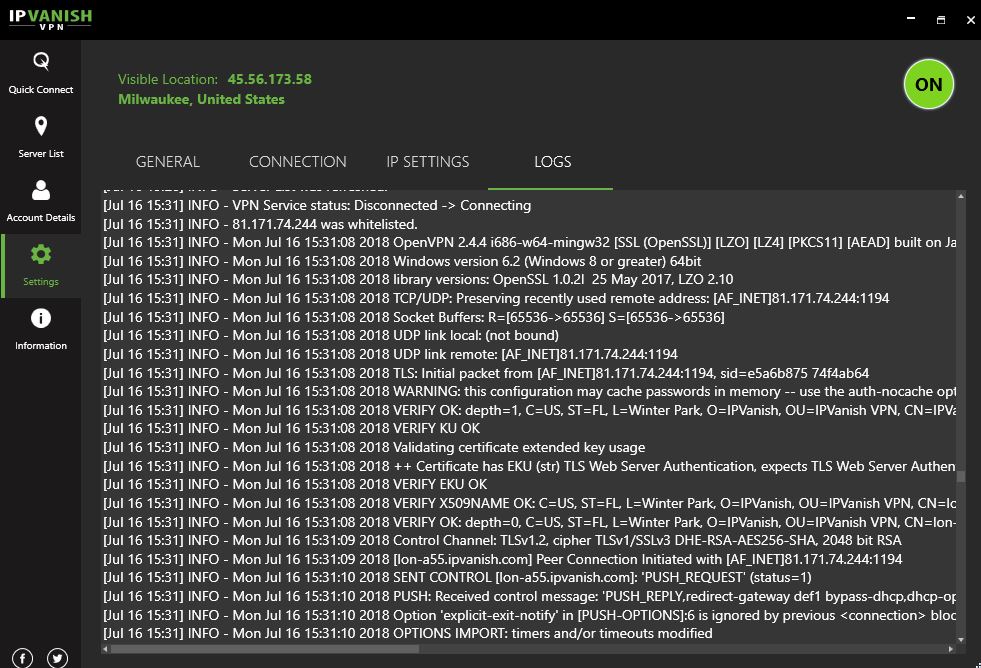 Setting up IPVanish for the first time was simple. We were able to download the software and install it within minutes. If you sign up before you download the software, the site determines which is the best option for the machine you are using. Since you can use up to 10 devices simultaneously, you can easily choose the correct application for other devices later.

There aren't many settings to adjust, so those who aren't technically savvy should find IPVanish simple to use. IPVanish does offer a Kill Switch feature, which is essential for those concerned with secure connections when using VPN services. However, the Kill Switch is not automatically enabled. You must go to the settings and turn it on.

One of the things we noticed when exploring the IPVanish application was that it does keep a running log of when you connect, to what server and the duration. While it is there for you to view, IPVanish does not save the record. It is just a way for you to keep track of what servers you connected to during your session.



We liked that we could choose our server. If one ran slow, we could switch servers without having to disconnect from the VPN first. By selecting a new server, the application disconnected for us and reconnected seamlessly.

With the ability to stream for your favorite online service is crucial for most users, we checked out how well IPVanish handled Netflix and Hulu. Sadly, at this time there are no servers that allow you to stream Hulu due to proxy settings within Hulu itself. However, when we tried Netflix, we found that we could access it from not just any US based server, but also from London and Glasgow servers in the UK.
Support8.6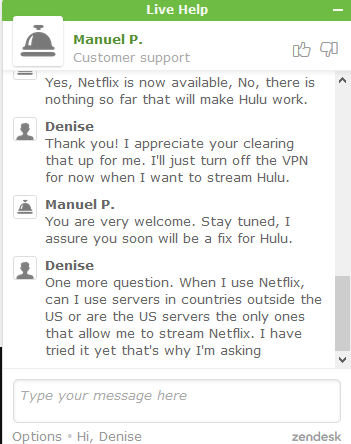 IPVanish has different ways for you to get support on a subject. To access help, click on the help icon in the lower right corner of the screen and type in your question. If there are articles to help you, a list appears for you to read about possible solutions. However, we were pleased to see that there is a live chat feature available for those who want to talk to someone about their experience.

Since we noticed that Hulu would not stream, no matter what server we chose, we talked to IPVanish about a possible solution. At this time, sadly, there is no way to change settings to allow Hulu to stream. According to our friendly tech, who was prompt in his communication with us, Hulu has yet to grant permissions for VPN services to stream. He assured us that they are working towards a resolution.



IPVanish only offers a refund for the first seven days after sign up. If you cancel within the week, they automatically refund the payment.

According to their site, it may take 24 hours to process the return and, if you used a credit or debit card, it might take five to ten days.
| VPN Vendor | Email response time | 24/7 support | Live chat | Refund Policy | Native English |
| --- | --- | --- | --- | --- | --- |
| IPVanish VPN | 20 min/s | | | | |
How We Test Customer Support and Why Should You Care
We personally test the customer support team of every VPN we review. This means asking technical question through the live chat feature (where applicable) and measuring the response time for email questions. Whether you need to connect to a specific server, change your security protocol, or configure a VPN on your router, finding a VPN with quality customer support should be important to you.
Pricing9.8
We were sad to see there is no free trial for IPVanish, although you can try it risk free for 7 days with the company's 7-day money back guarantee. Many consumers like to try before they commit to a monthly or yearly contract. However, they do offer a no questions asked for a refund for the first seven days. As long as you cancel the account within the first week, they automatically refund the cost to you.

IPVanish does offer three different payment options: 1 month, three months, or 1 year. The longer the term of your contract, the better discount you receive. They also offer a 66% discount for first-time subscribers on their site. Click on the Coupon link for the code and add it in during check out. You can use it on any of the service tiers. The coupon is only for new service and cannot used on subsequent renewals.

IPVanish takes all major credit and debit cards and accept PayPal payments.
IPVanish VPN offers the following plans