Surfshark is a new VPN that has been creeping up the charts since its release in 2018. The came out with an impressive collection of security features including 256-bit AES encryption, OpenVPN default protocol, IKEv2, an automatic kill switch, DNS/IP leak protection, and CleanWeb feature, which prevents ad-tracking, pop-ups, and malware from flooding your device.

In their first year, this company has managed to significantly boost their server numbers and locations, expanding from just a few select servers in 14 countries, all the way to more than 500 servers in over 50 countries.

I had to test this VPN for myself to see if it really is as good as advertised or, as often happens with VPNs, just a lot of keywords that give off the appearance of a secure VPN.

I bought a two-year subscription, which comes with a huge 83% discount (which comes out to $1.99 per month) and allows for unlimited simultaneous connections.

I had three main categories to test out:

Overall I was very happy with how the Surfshark responded during my tests and I would definitely recommend them to my friends and family, and of course readers.

Test 1. Is Surfshark Really that Secure?
As we mentioned at the top, Surfshark comes with all the important security features, no logging, outside the five eyes, OpenVPN, 256-bit encryption, and leak protection.
I tested SurfShark's DNS and IP leak protection by using the Wizcase IP checking tool and outsourcing a DNS leak detector. This truly is a trustworthy and secure service, as all results came back positive.
There is also an option to activate the automatic kill switch in the connectivity section of the settings, which will disable internet access when a VPN connection drops or is turned off.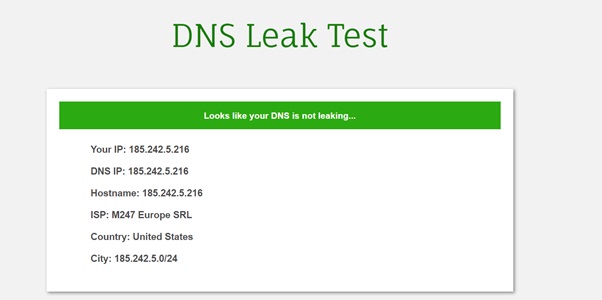 The DNS Leak Test came up clean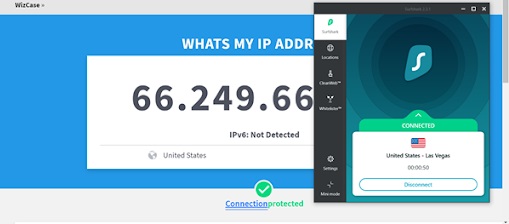 My real IP Address is hidden
Next, I tested the new integrated tools that Surfshark has added over the past few months. This includes Multi-hop, Whitelister, and CleanWeb. These tools are often included as an add-on with other VPNs if they are offered at all, but here they are part of every package.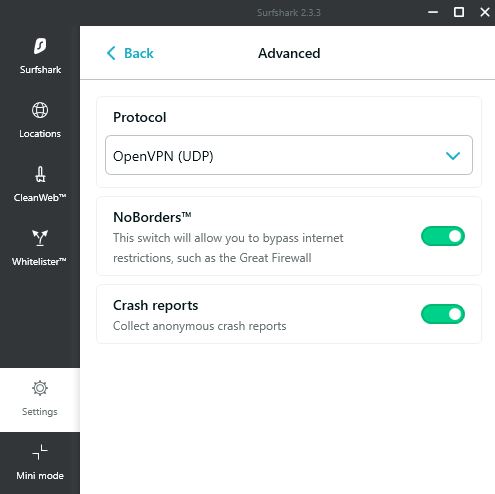 MultiHop allows you to connect to multiple server locations at once, taking IP masking to the next level. This reroutes your connection through two countries, for an added level of privacy and security.
I had my reservations about this feature at first because MultiHop connection often result in a big dropoff with connection speed. However, after connecting to the different MultiHop Canada/USA server I saw only a slight decrease in speed and Netflix worked without buffering.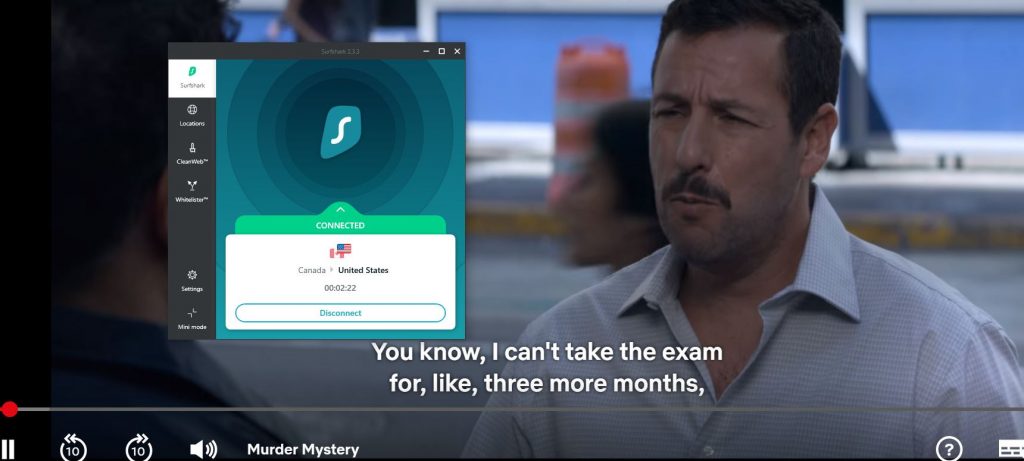 CleanWeb seems to be Surfshark's answer to NordVPNs CyberSec. It blocks ads, malware, trackers, and phishing attempts. The ad blocker is turned off by default, so you will need to turn it on to take advantage of this extra layer of protection.

Test 2: Can I watch Netflix (and other streaming services) with Surfshark
Many streaming sites block traffic that comes from VPNs. This is because they either want to restrict viewers to a certain geographic location or in the case of Netflix, a shows availability is based on the viewers' location.
I had to make sure that Surfshark is able to avoid detection by these streaming sites before I could recommend them. I started out with Netflix and was able to access to watch shows from the countries that have the largest Netflix libraries; US, Canada, Japan, and France. I tried watching in Brazil, but the shows wouldn't load.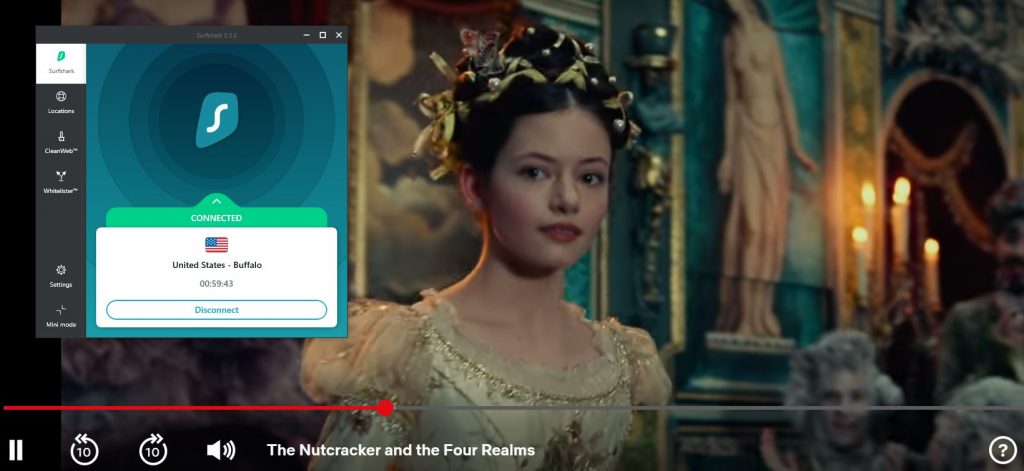 Next, I logged into Hulu and found that it took some trial-and-error to find a server that went undetected, but once I had no trouble streaming in HD. Some other channels that I was able to watch are NBC, CBS, ESPN, the BBC iPlayer and more.

Test 3: Can I Torrent Anonymously with Surfshark
A VPN's ability to torrent depends on if its servers allow for peer-to-peer (P2P) connections. Fortunately, Surfshark does allow for P2P file sharing; however, it's not available on all servers. Despite this, when choosing a location, you can choose to use servers optimized for P2P and torrenting.
Surfshark's servers in Canada, Germany, Italy, Japan, the Netherlands, the United Kingdom, and the United States support torrenting. There is also an option to select the fastest P2P location, which will automatically find the optimal server for you depend on where you are.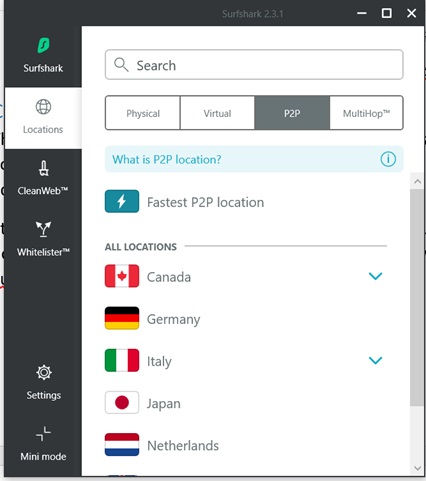 Surfshark's P2P location options
I downloaded a few movies (for testing purposes only of course) using the P2P servers and was disappointed in how the download speeds that I was getting 426 Kb/s as opposed to the 2.3 MB/s I get when torrenting without the VPN. To be honest, it's not that big a deal, it just means that I have to wait an extra few minutes for the movie to be ready, and that's a price I'm willing to pay for the peace of mind, knowing my ISP and government don't know what I'm up to.

While connected to the "Fastest P2P Server" I was getting 790KB/s downloading movies
by Mackenzie Pringle | Aug 22, 2019
Pros
Low price for 1 or 2 year plans
Access to all major streaming sites and restricted content
Fast Server Speeds
Numerous robust security features
Unlimited devices
24/7 customer support team
30-day money-back guarantee
Cons
Price for a single month is very expensive
Doesn't have Tor over VPN option
Important to know
Country of Incorporation: British Virgin IslandsFounded date: 2018Kill switch: Keep logs: NoDevice per license: UnlimitedRefund policy: 30 days guaranteedPlatformsWindows Mac Linux Android Ios Router
Contact Details
Surfshark Email:info@surfshark.comSurfshark Website:surfshark.com
Speed8.7


Surfshark provides excellent connection speeds with limited buffering when streaming. They also offer unlimited bandwidth, ensuring you can download and upload as much as you please.

I tested Surfshark's speed to get an understanding of how fast the connection is by connecting with different servers from around the world and testing their speeds at different times of the day for an accurate average result.

Naturally, connecting to local servers provided faster speeds. However, the speed drop was unnoticeable when connected to overseas locations. No matter the server location, we were always able to stream Netflix and other HD content without any buffering issues. Even some bandwidth demanding online games didn't shake the connection of Surfshark.

Here are the results of one of the tests I ran.



When I connected with a server in Amsterdam there was a slight drop in my download speed, but it didn't really affect my online activity.



What to do if you Experience Slow Speeds
It's normal for there to be some drop in your internet speeds when connected to a VPN. However, it shouldn't such a severe speed reduction that you're suffering from buffering or slow loading pages. If that's the case, the first thing to do is to try a different server. Often times a server can get overloaded, which causes all the traffic running through it to slow down. If that doesn't help, contact the 24/7 live chat support and see if they can see why you're having trouble and troubleshoot with you.
| | Download speed reduction | Upload speed reduction | Ping time to Google.com | Average time to connect (seconds) | Unblock successful for |
| --- | --- | --- | --- | --- | --- |
| Surfshark | 82% (UK) | 45% (FRA) | 515ms | 22 | |
| Average score of top 10 VPNs | 19% (UK) | 17% (FRA) | 25ms | 9 | |
Why Most Speed Tests are Pointless & How We Correctly Test VPN Speeds
Speed determines how fast content uploads, so if you're torrenting or streaming, you want the speed to be somewhat identical to your regular internet speed. Since a VPN encrypts your data, it usually takes a bit longer to send your data back and forth, which can slow down your connection. However, if your ISP deliberately slows down your connection (also known as throttling) a VPN might increase your internet speed. Testing a VPN is somewhat pointless because new servers pop up and affect speed. Your speed can also differ according to your location, so your speed test might not match ours. Having said that, we tested the speed in numerous locations to provide you with the average.
Servers8.7
As mentioned above, Surfshark was able to dramatically increase their servers in the past year to more than 500 in over 50 countries. That's ridiculously impressive for a company that only launched recently as you don't usually see such a rapid growth in this amount of time. This decision to up their server count was a good idea, as it has had a major effect on the popularity of the service. Servers are a critical aspect of any VPN, and you can see that Surfshark takes the quality and range of their servers quite seriously.
Their servers are based in most major countries and they have a comprehensive list of available options located in the US, UK, Australia, Hong Kong, Europe, and more.

Just some of the countries you can choose to connect with
Surfshark promotes its ability to provide uninterrupted and unlimited streaming, meaning that they don't just allow you to gain access to Netflix, but also support P2P (player to player) and torrenting sites. Even TOR sites are compatible with Surfshark's servers, meaning that if you're looking for extra privacy than you'll be able to connect through TOR for an added layer of encryption.
While all of these aspects are great, we were most intrigued by the MultiHop feature Surfshark offers. This will allow you to connect to a server through multiple countries, taking your IP masking and footprinting to the next level.
Server Locations
United StatesAlbaniaArgentinaAustraliaAustriaBelgiumBrazilBulgariaCanadaColombiaCosta RicaCroatiaCyprusCzech RepublicDenmarkSee all supported locations…
The Big Mistake When Comparing Number of Servers and What to Really Look For
The ratio of servers to countries is an important factor to look at when choosing a VPN. Only paying attention to location or number of servers can get you in trouble. More servers generally means faster speeds, but if VPN X has a few more servers than VPN Y but twice as many users, VPN X will typically have slower speeds. Ideally, you want a VPN that has a lot of servers in every location. This way you won't have to worry that server/country that you want will be overburdened and running slow
User Experience9.0
It took less than five minutes from when I purchased Surfshark until I was connected to one of their servers.
It's an excellent option for beginners due to their minimalistic features and easy-to-use interface. You won't need much technical knowledge to operate the VPN. However, if you are technically inclined, there are options for you to play around with the advanced settings.
A simple menu of options is also located on the left-hand side of the interface. The intuitive nature of the app is perfect for those starting out with their first VPN.
They offer apps for all major platforms, including Mac, Windows, Linux, iOS, Andriod, FireTV, Chrome, and Firefox. To test the consistency of the apps across platforms, we downloaded the product on iPhone X and a Windows computer. We found the product to be virtually the same across the two platforms, making it easy to switch devices.
Surfshark stands out from the crowd offering unlimited simultaneous device connections. Not many VPNs provide this degree of account sharing, and it's particularly rare in premium VPNs like Surfshark. For those of you wanting to share your account with your peers, co-workers, and family, or if you need to access your VPN across all your devices, Surfshark is the choice for you.
One of their more unique features is Whitelister, which allows you to choose the specific apps or websites you want your VPN to encrypt or bypass. With this, we could use US Netflix and access foreign bank accounts simultaneously. For those of you who are busy and need to get a few things done at once, Whitelister will help you access all the content you need, without having to disconnect and reconnect to the VPN.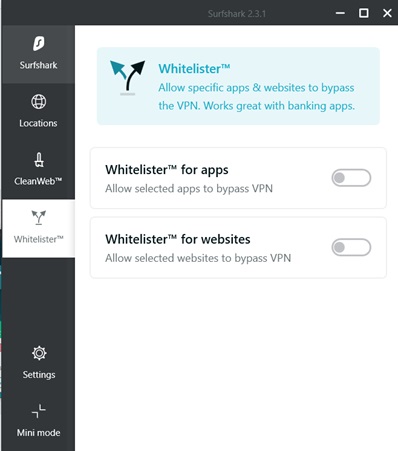 Support9.4
With Surfshark you receive round the clock support with their incredible customer service team. You can get in contact with them at any time of day via their live chat feature and their support staff will provide you with helpful answers. Their team will help you to navigate the service with ease and aren't going to leave you with lingering questions.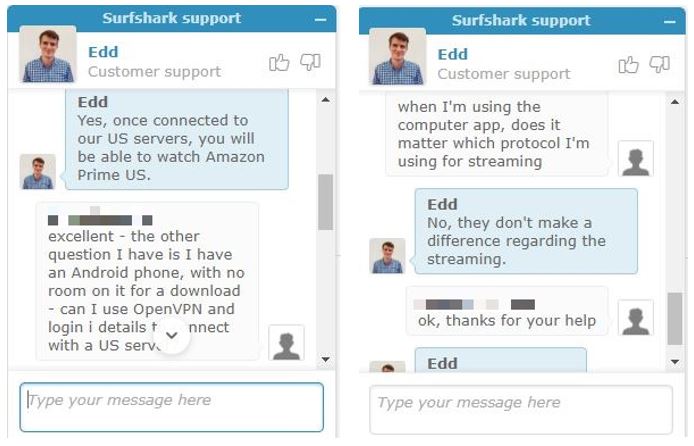 You can also find any answers you need on their FAQ pages, troubleshooting and set up guides, and billing information page. So no matter the issue you're facing, Surfshark is there to help you out.

We tested out their response times and received a reply within minutes of sending through our questions, regardless of when we messaged them. A helpful team member always gave us a quick reply and sent through a link for us to follow up if needed. This is the perfect balance of providing you with the answers you need without bombarding you with irrelevant information.
| VPN Vendor | Email response time | 24/7 support | Live chat | Refund Policy | Native English |
| --- | --- | --- | --- | --- | --- |
| Surfshark | | | | | |
How We Test Customer Support and Why Should You Care
We personally test the customer support team of every VPN we review. This means asking technical question through the live chat feature (where applicable) and measuring the response time for email questions. Whether you need to connect to a specific server, change your security protocol, or configure a VPN on your router, finding a VPN with quality customer support should be important to you.
Pricing9.2
If you're looking for a two-year subscription then you won't be able to beat Surfshark's amazing price. For less than a cup of coffee, you can get complete online protection and anonymity, as well as the power to bypass the major streaming sites.

 
Payment wise, you can purchase the service with virtually anything, from all major credit card services, PayPal, Sofort, Amazon Pay, Google Pay, and Alipay. For those of you wanting to be even more anonymous, you can purchase Surfshark using cryptocurrencies like Bitcoin.
Surfshark offers the following plans