SaferVPN has been around since 2013 and boldly describes itself as "the fastest and simplest VPN."
SaferVPN's mission is to "provide secure, private and uncensored Internet access to anyone, anywhere," but does it succeed in reaching that goal? And can it really be as good as it claims?
We have thoroughly tested out SaferVPN's service to find and answer to that – plus the following questions:
Does SaferVPN work with Netflix?
Is SaferVPN fast?
Does SaferVPN collect user logs?
Can you use SaferVPN to torrent?
Does SaferVPN work on Firestick?
Is SaferVPN legit?
We go into a lot of detail in the below review to give you a comprehensive understanding of what SaferVPN can do. But if you want a sneak peek, take a look at its main pros and cons below:ProsCons
Moderate VPN speeds
VPN kill switch & no IP/DNS/WebRTC leaks
Works with Netflix, iPlayer & more
Low latency makes it ideal for gamers
User-friendly VPN apps. Instant set-up on popular devices
Collects some VPN connection data logs
Server network is very small (34 countries)
Torrenting only permitted on 3 servers
Unreliable for China
Works with
Netflix, BBC iPlayer, Hulu, HBO, Sky, Now TV, SlingTV, Torrenting, Kodi
Available on
Price from
$2.50/mo
SaferVPN is undoubtedly cheap, and the company has done some commendable work for internet freedom with its Unblock the Web initiative, but is the VPN service really as good as it boasts?
Let's find out, by first looking at how fast it is.
Speed & Reliability
Pretty quick speeds on nearby servers, less reliable on distant connections
SaferVPN is by no means the fastest VPN in the current market but it's quick enough for casual users looking to surf the web and stream in HD.
On same-country VPN connections (like London-to-London) you can expect SaferVPN to bring down your download speeds by around 18% drop, which isn't too bad for a VPN.
With speeds of around 76Mbps we could stream buffer-free and download large files pretty quickly.
Speed results from our physical location in London (100Mbps fibre optic connection) to a London test server.
Before using SaferVPN:
When connected to SaferVPN:
Download speed without SaferVPN: 92.40Mbps
Download speed with SaferVPN: 76.09Mbps
Our download speed loss when SaferVPN is running: 18%
International connections, such as the UK to the US, are far less speedy, dropping by around 76% – a very noticeable difference.
While 22Mbps is still fast enough for HD streaming on Netflix, you may struggle if you have a slower internet connection without a VPN – ours clocks in at 100Mbps.
If you want an idea of how fast SaferVPN is on international connections take a look at our speed test results connecting out from the UK to SaferVPN servers in:
USA: 22Mbps (download) & 34Mbps (upload)
Germany: 61Mbps (download) & 75Mbps (upload)
Singapore: 15Mbps (download) & 7Mbps (upload)
Australia: 13Mbps (download) & 3Mbps (upload)
Upload speeds are generally good as long as you connect to a nearby server, but torrenters should take note that P2P is only permitted on the Canada, Spain, and Netherlands servers.
Gamers will be satisfied with SaferVPN's low ping times.
Server Locations
1,000+IP AddressesSee all Server Locations
SaferVPN has a very small VPN server network covering just 34 international locations. These include popular locations like the US, the UK, Canada, Australia, as well as loads in Western Europe.
There are a handful of options in Africa, Asia, and South America, most notably South Africa, Mexico, Brazil, Japan, Thailand, and Hong Kong.
There aren't any city-level servers, but SaferVPN does provide East and West servers in the US, which is better than nothing (although still not all that useful if you need to connect to a specific state.)
If you are looking for a VPN service with a much more extensive server network, HideMyAss! offers servers in other 190 countries worldwide.
ExpressVPN is also an excellent choice for those requiring plenty of city-level servers in the US.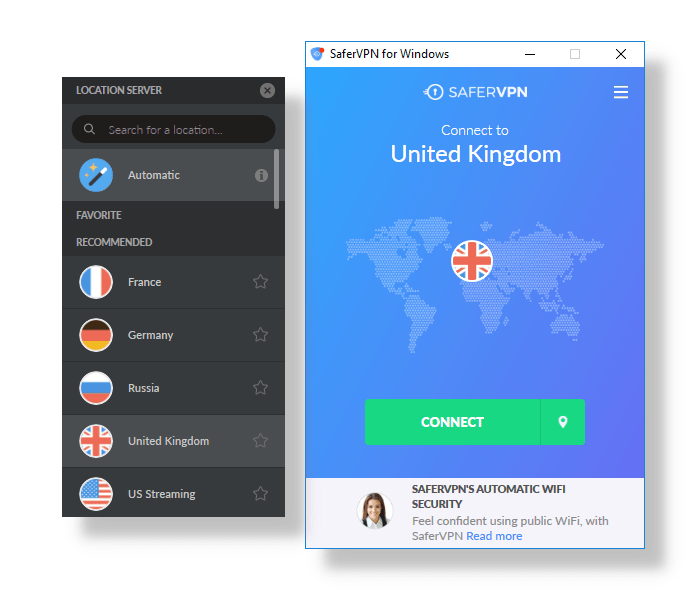 SaferVPN operates just over 700 individual servers, and all of them are virtual servers. This means that SaferVPN leases cloud-based servers from third-party providers.
While SaferVPN encrypts traffic on those virtual servers, we prefer VPN services to own physical servers so that they are in full control of the servers to ensure maximum security and privacy.
SaferVPN only provides 1,000 IP addresses in total, though, so users may experience reduced speeds and server congestion at busier times.
Streaming & Torrenting
Optimized streaming servers for Netflix, limited P2P support
SaferVPN has servers that are optimized for both US and UK streaming services.
Watching Netflix is made easy through the US streaming server, but on occasion we had issues getting connected – they didn't last long, though.
The story is much the same with BBC iPlayer, which we were able to watch in most of our tests by connecting to the UK streaming server.
Unfortunately, this SaferVPN server doesn't work with the UK Netflix library. Amazon Prime Video is also blocked.
SaferVPN also claims to unlock the following services, but the support team said that it's best to take out a free trial in order to test them out before you purchase a VPN subscription:
Torrenting
SaferVPN provides fast upload speeds if you connect to a nearby server, but since torrenting and P2P are only permitted on three server locations (the Netherlands, Canada, and Spain) if you live far away you should take a look at the best VPNs for torrenting instead.
The small number of P2P-friendly servers may also lead to server congestion and slow speeds during peak times.
You can use SaferVPN with Kodi too – if you want to use it on your Amazon Fire TV Stick or other streaming device you'll have to install the VPN on your router.
SaferVPN comes with a VPN kill switch and IP leak protection, but it does log more connection details than we'd like. There are safer VPNs out there for torrenting, such as NordVPN.
Bypassing Censorship
An unreliable VPN for China
SaferVPN is unreliable for China. Since the Chinese crackdown on VPNs started, SaferVPN has struggled to maintain consistent connectivity in the country.
The custom VPN apps are blocked, but sometimes manually configuring the VPN with the OpenVPN protocol works. It's a fairly lengthy and technical process, and it's still not guaranteed to work.
SaferVPN is lacking in the additional obfuscation tools that are usually needed to overcome these more aggressive government blocks.
Take a look at our top recommendations for China that come with all the necessary anti-censorship features.
In other high-censorship countries, SaferVPN remains a decent choice due to its powerful privacy tools, accessibility to Tor over VPN and selection of servers in Asia-Pacific
Platforms & Devices
Apps
SaferVPN offers custom VPN apps for the most popular devices:
On SaferVPN's website you can also find loads of manual set-up guides for those devices without native apps such as Linux, Windows Phone, and BlackBerry.
You can connect to SaferVPN on five devices at once – a pretty standard number for most popular VPNs.
Games Consoles & Streaming Devices
SaferVPN doesn't have any custom apps for streaming devices or games consoles, so if you want to protect your Amazon Fire TV Stick or Xbox, you'll need to manually configure your router.
SaferVPN provides step-by-step instructions for setting up its VPN on your router, or you can buy one pre-flashed.
Once your router is set up with SaferVPN every internet-connected device in your home will be protected, including games consoles and streaming devices.
Browser Extensions
SaferVPN provides browser extensions for both Google Chrome and Mozilla Firefox, which can be installed in a matter of seconds.
These browser add-ons are included in the price of the paid subscriptions, but also available to free users (subject to a 500MB data cap.)
It should be noted that as these extensions are proxies they do not create a VPN connection, nor do they encrypt your connection, or offer the same advanced features as the desktop client. We wouldn't recommend using them as a complete substitute for the main SaferVPN app.
Encryption & Security
Strong encryption & all the necessary security tools
| | |
| --- | --- |
| Protocol | IKEv2/IPSecL2TP/IPSecOpenVPN (TCP/UDP)PPTP |
| Encryption | AES-256 |
| Security | DNS Leak BlockingIPV6 Leak BlockingVPN Kill Switch |
| Advanced features | TOR via VPN Server |
Please see our VPN Glossary if these terms confuse you and would like to learn more.
SaferVPN provides strong encryption and some great security features to keep you safe online.
You can set the app to auto-select the best performing VPN protocol – we recommend OpenVPN wherever possible as this offers the best balance between performance and privacy.
AES-256 encryption, which SaferVPN uses, is as strong as it gets. In fact, this cipher is considered near-unbreakable.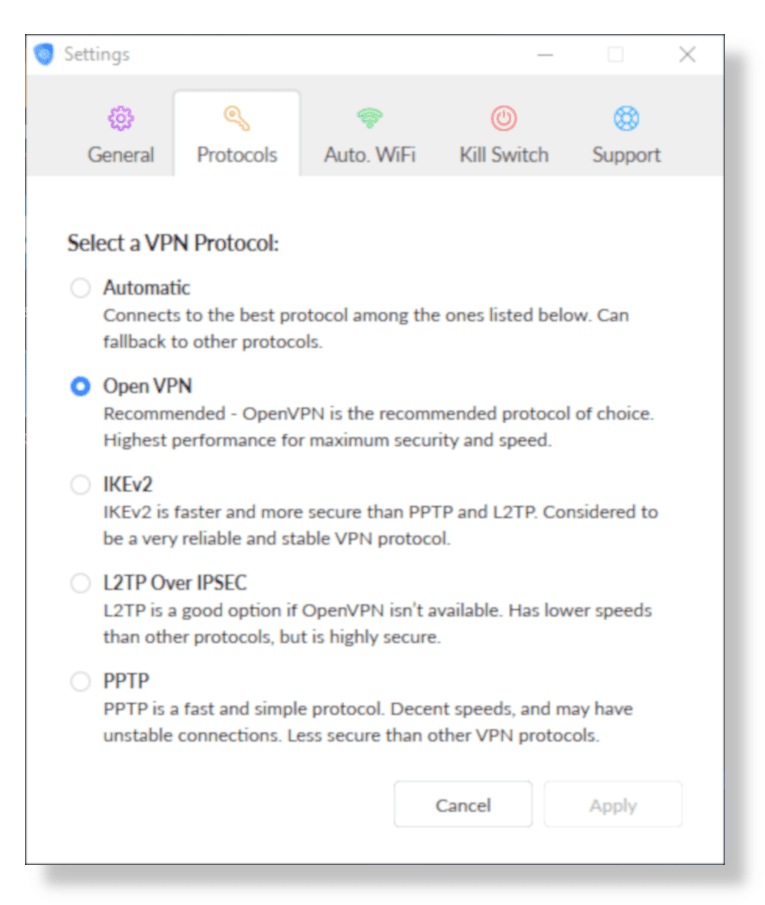 SaferVPN's kill switch is an essential feature, ensuring your true IP address isn't exposed by stopping all web traffic should the VPN disconnect unexpectedly.
SaferVPN doesn't operate its own DNS servers, which is disappointing, but it does use Google Public DNS, which is considered to provide a very high level of performance and security.
Recent updates to the SaferVPN app include DNS and IPv6 leak protection. This prevents DNS requests from being exposed to your ISP and, thankfully, we found no such leaks during our independent tests.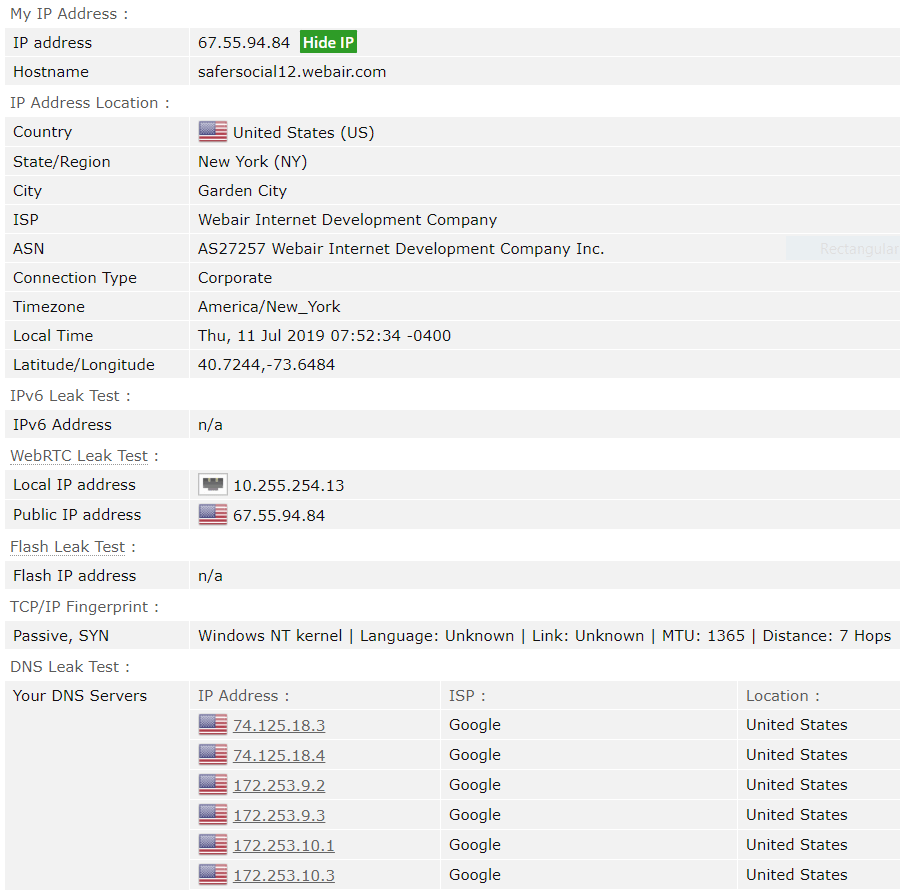 SaferVPN's leak test results on browserleaks.com while connected to a US VPN server. We test from the UK.
For an extra layer of privacy, you can access Tor through SaferVPN, and you can also allow local network devices such as printers to bypass the VPN connection (split tunneling), which is very useful.
Logging Policy
Some connection logs and based in the US
SaferVPN's logging policy is fairly minimal – it doesn't collect your IP address – but it could do even more to reduce what it logs without compromising on performance.
The privacy policy states that SaferVPN doesn't log "your browsing activity, data, or IP addresses", including the websites you visit and anything you download or share.
However, SaferVPN's servers do log the following information each time a user activates the VPN service:
Date and time at which the session began and ended
Amount of data transmitted during the session
The chosen country and server location
The country which you connected from
SaferVPN keeps these logs for 90 days, which is longer than we're comfortable with, but considering it'd likely be very difficult to link any online activity back to an individual using this data it's not too concerning.
Jurisdiction
SaferVPN was first released in 2013 and was recently acquired by NetProtect, a subsidiary of J2 Global, which is based in the US.
The US is a member of the Five Eyes intelligence-sharing alliance, which is bad news for privacy.
However, SaferVPN's Privacy Policy states that if for any reason a government, business, or any other type of organization wanted to acquire data relating to a specific individual, it would be impossible for them to hand it over as it simply does not exist.
Ease of Use
Quick and easy setup with intuitive custom apps
How to Install & Set Up SaferVPN
It's really easy to find where to download the software on SaferVPN's website.
Simply select the appropriate platform from the long list of SaferVPN custom apps available.
The SaferVPN setup wizard will guide you through the installation process.
You can check on how quickly the software is being installed here – usually it's done within a couple of minutes.
SaferVPN's main dashboard. Search for or scroll through servers on the left and then connect.
SaferVPN's connected screen clearly shows important connection details such as your new IP address.
SaferVPN settings screen. Choose your VPN protocol from a separate tab with helpful hints shown.
SaferVPN's additional settings include easy access to customer support and a VPN speed test tool.
SaferVPN's custom VPN apps are super easy to download and install, and they are all simple and pleasant to use.
The limited list of configurable settings are organized into helpful tabs to make it easy to navigate.
SaferVPN's mobile apps lack some of the essential security features like the VPN kill switch.
Browser Extensions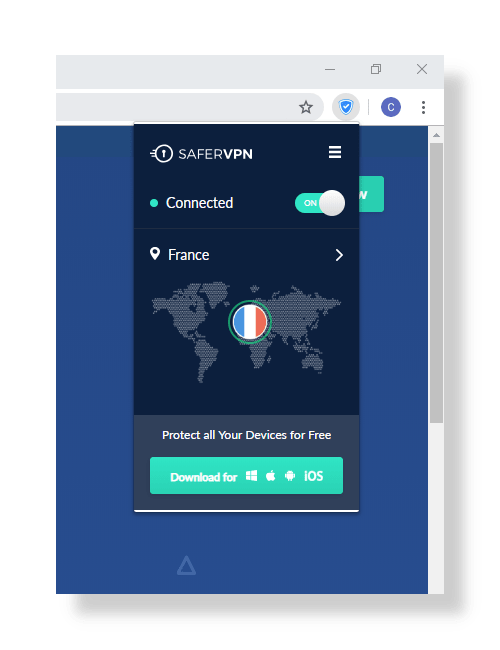 Installing SaferVPN's browser extensions for Chrome and Firefox is really simple. All you need to do is click through to either the Chrome Web Store or Mozilla Add-ons store, download the extension, log in, and connect. It shouldn't take more than a couple of minutes.
Customer Support
Live chat agents lack in-depth knowledge
| | |
| --- | --- |
| 24/7 Live chat support | |
| Online Resources | |
SaferVPN does offer 24/7 live chat support but it left us feeling frustrated at times. While live chat responses are extremely quick, the support agents often struggled to answer even the most basic of questions.
When we enquired how long SaferVPN stores connection logs for, the agent was reluctant to tell us any specific information. We resorted to emailing the support team, and thankfully got a response in less than 10 minutes that actually answered our question.
SaferVPN's online knowledge base covers the basics of installation and troubleshooting well enough, but we want to see a higher level of depth and detail in some areas.
Pricing & Deals
Cheap plans with 30-day money-back guarantee
SaferVPN Pricing Plan
SaferVPN, like most VPN services, gets cheaper on a monthly basis the longer you subscribe for.
A single month is the most expensive option at $12.95, but you can save 58% if you opt for an annual SaferVPN subscription ($5.49 per month), and 81% on the three-year plan, coming in at a very affordable $2.50 a month.
All plans have 30-day money-back guarantee
Payment & Refund Options
SaferVPN accepts most standard payment methods including cryptocurrencies for purchasing privacy:
Major credit and debit cards
PayPal
Bitcoin
A host of other cryptocurrencies like Ethereum and Tron through CoinGate
There are currently no international options accepted, which means no Alipay or UnionPay.
SaferVPN offers both a 30-day money-back guarantee and a 24-hour free trial. The money-back guarantee is 'no questions asked', with no hidden catches, restrictions or data caps.
Your card will be charged when you sign up but all refunds are processed in approximately ten working days, making it a relatively risk-free process.
The free trial gives you full access to the service for 24 hours. The only information requested by SaferVPN is your email address, so it's is a great way to test out the VPN software without having to worry about applying for a refund if you aren't satisfied.