NordVPN offers a VPN service that allows its users to browse the web anonymously and securely.
Their service is also good for streaming, accessing geo-blocked content and for torrenting/P2P.
Their large server network (5800+ servers) uses OpenVPN protocol and AES 256-bit encryption (with double data protection) which is the industry standard.
In this NordVPN review, I'll test their server performance, privacy features and customer support while pointing out seven reasons why I recommend using this VPN software instead of a proxy or a free VPN.
NordVPN Overview
| | |
| --- | --- |
| OVERALL RANK: | #1 out of 78 VPNs |
| USABILITY: | Very Easy To use |
| LOG FILES: | Strict No Logging Policy |
| LOCATIONS: | 62 countries, 5800+ servers |
| SUPPORT: | Live Chat (24/7) |
| TORRENTING: | P2P & Torrenting Allowed |
| NETFLIX: | Unblocks Netflix USA |
| ENCRYPTION/PROTOCOL: | 256-bit AES/OpenVPN, IPSec & IKEv2 |
| JURISDICTION: | Panama |
| COST: | $2.99/mo |
| OFFICIAL WEBSITE: | www.NordVPN.com |
NordVPN Pros
NordVPN is probably the most popular VPN provider who boldly claims to be The World's Most Secure VPN.
But I've seen those claims before. So I bought NordVPN and decided to put it towards multiple tests. Here are the pros I found…
1. Strong Features & Add-Ons
While being relatively cheap, they do provide some great features including:
IP hiding: Yes
Netflix access: Yes
Torrenting/P2P: Allowed
Ad-blocker
Access to their DoubleVPN servers which encrypts data twice
Servers: 5800+ fast and secure servers in 60 countries
Max. simultaneous connections: 6
Not only do they have applications for Windows, Mac, iOS, Android, Linux, AndroidTV, Chrome & Firefox they have detailed tutorials for protocol connectivity for them and 40 other mobile OS, RaspberryPi's and routers. They also offer a 7-day free trial for mobile users.
Kill Switch: NordVPN software automatically kills your connection if your VPN connectivity is interrupted, blocking your device or terminating certain programs from accessing the internet.
DNS Leak Protection: If you have set up your VPN connection manually (say you didn't want to connect via OpenVPN) or have recently reset your Windows, you're prone to DNS leaks. These DNS requests will then be completely unprotected. NordVPN have implemented measures to protect you and negate such leaks.
Onion Over VPN: For extra protection, or those desiring to visit the dark web (TOR network), NordVPN offers you the ability to route your traffic first through their VPN and then send it to the Onion Router.
SmartPlay: SmartPlay technology ensures you can access more than 400 geo-restricted streaming services; Netflix, Amazon Prime, Pandora, BBC, and others. With more and more VPN servers unable to access Netflix, this is a welcome feature.
OpenVPN (among other tunneling protocols)
OpenVPN comes with 256-AES-CBC with a 2048bit Diffie-Hellman key. I generally like to see DH over RSA, due to the former enabling Perfect Forward Secrecy. On iOS and MacOS clients, you'll be encrypted via an IKEv2/IPsec protocol; AES-256-GCM and a 3072bit DH key,
In short, NordVPN has gone all out on security and has employed above industry standard encryption algorithms.
Double Data Protection
If you opt to turn this feature on, NordVPN's double encryption will relay your data via not one, but two subsequent VPN servers, before it reaches the web page or application you're attempting to access. By chaining your connection through two VPN servers, your data gets encrypted twice.
In addition to the double encryption, the second VPN server will be unaware of your original IP address and connections are always made via both UDP and TCP protocols. This is a "one extra step" security feature. The vast majority of you are unlikely to ever require it, especially if you're using it only for torrenting and Netflix unblocking.
Not to mention the impracticality of the slightly reduced speeds you're going to incur.
2. Strict No Logging Policy
While some VPN providers keep some logs, NordVPN doesn't.
On their website, they've clearly stated the following:

However, they do monitor some lesser important data, such as:
Service performance data (for recommending most suitable servers)
E-mail address
Payment data (but you can also use bitcoins)
That's the regular stuff that most (if not all) VPN providers are logging and it's nothing you should be worried about. Especially when NordVPNs payment processor isn't tied up with their main company.
3. Works Great for Torrenting and Netflix USA
Since NordVPN has a lot of servers they also work well with Torrenting and bypassing geo-restrictions on certain sites like Netflix.
When I tested NordVPN together with Netflix it seemed to work:

I have to admit, not all servers are working with Netflix, because we all know how Netflix tries to crack down certain IPs that belong to VPNs.
But 5 out of 6 should work. Here are my Netflix test results:
NordVPN servers unblocking Netflix:
United States (2)
United Kingdom
Netherlands
Canada
NordVPN servers blocked by Netflix:
You can always get in touch with their customer support who will help you choose the right servers for your streaming.
Moreover, torrenting is safe and fast too.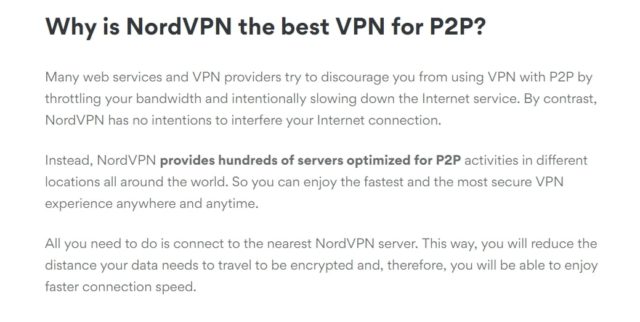 NordVPN has made special "P2P servers" that are solely meant for keeping your torrenting activities safe and private. You can access the P2P servers via "specialty" servers list on their application.
4. NordVPN Speed is Stable and Well Above Average
Ah, the meat and bones of any reputable VPN review – independent, meticulous and prolific speed testing.
When I first reviewed their speeds weren't anything to brag about.
However, when I re-did this speed test in December 2018 I was pleased to see their speeds among the top.
To gauge just how efficient NordVPN is at securing your traffic, I conducted several dozen speed tests from our offices in Europe, connected to the US, UK, EU and Asian servers.
For this speed test, I used 100 Mbps Cable Internet connection with the following benchmark (without VPN):

And while the best VPNs managed to achieve download speeds of 70 Mbps+ and up, NordVPN came out with 74.15 Mbps.

US Server
Ping: 101ms
Download: 56 Mbps
Upload: 29 Mbps
On average, pretty good for a six thousand mile journey.EU Server
Ping: 37ms
Download: 74 Mbps
Upload: 48 Mbps
Decent speeds for EU, too.
Asia Server
Ping: 211ms
Download: 12 Mbps
Upload: 5 Mbps
Not bad for a Europe to Asia connection!
Overall, NordVPN is relatively fast VPN provider.
5. No IP or DNS Leaks Found
Whenever I review VPNs, I always make multiple tests to see if they're leaking my DNS or IP.
To make these accurate, I set my location to their USA server used 5 different sites for checking DNS leaks:
IPLeak.net
Perfect-Privacy.com DNS & IP leak test
Browserleaks.com for WebRTC leaks
IPC.ax
Overall, I can be confident that your IP nor DNS will likely never get leaked when using NordVPN.
Furthermore, when I did research on Chrome extension leak test, NordVPN was one of the few that didn't need to fix it as it wasn't leaking (read the full case study here).
6. Located in Panama (Safe Jurisdiction, No Data Retention Law)
According to their website (NordVPN.com), NordVPN was launched 2008 in Panama and is operated by Tefincom co S.A.
All top VPNs are located in independent countries that don't share information on logging (Switzerland, Singapore, Caymans, British Virgin Islands and so on).
NordVPN definitely hides this information well enough. And it's good for their users, too.
However, when I actually paid for the test account to write this NordVPN review, my payment went to CloudVPN Inc (located in the US). So aren't they really located in Panama like the claim?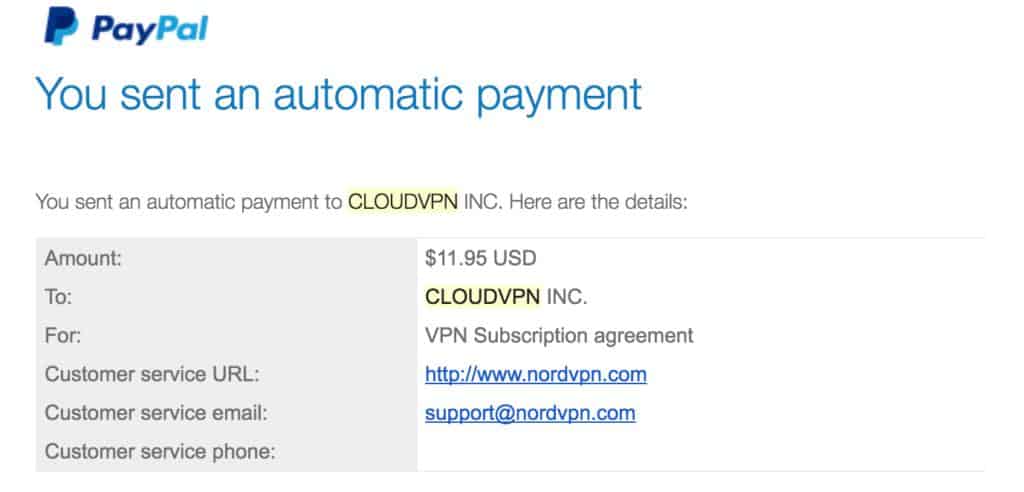 To find out, I contacted NordVPN directly and here's what they wrote to me:
"Hi Rob,

First, NordVPN and all the infrastructure we use is being run by Tefincom S.A. and operates under the jurisdiction of Panama.

CloudVPN is used only as a payment collector in order to improve the acceptance rate, as banks are suspicious towards transactions made to Panama and tend to complicate or terminate such payments. It's a simple and common practice.

Our company has absolutely nothing to do with the service itself in the legal or any other matters."
To be honest – this makes a lot of sense. They are "officially" based in Panama which helps them to avoid any data retention laws.
7. Knowledgeable Customer Support via Live Chat
NordVPN can be contacted by support@nordvpn.com or through live chat.
Even after reviewing over three dozen different VPN providers, hundreds of hours of testing, examining and reviewing, we still have questions or need for technical assistance.
Whether it's to double check the encryption offered for your router, or a simple troubleshoot on a newly built rig, you will be forced to deal with the customer support of your VPN of choice.
If you're a newcomer or not technically inclined? You might have some technical questions.
Any VPN worth their salt will have a prolific database of tutorials, how-to guides and informational articles in addition to live chat & quick email support.
Live Chat & Email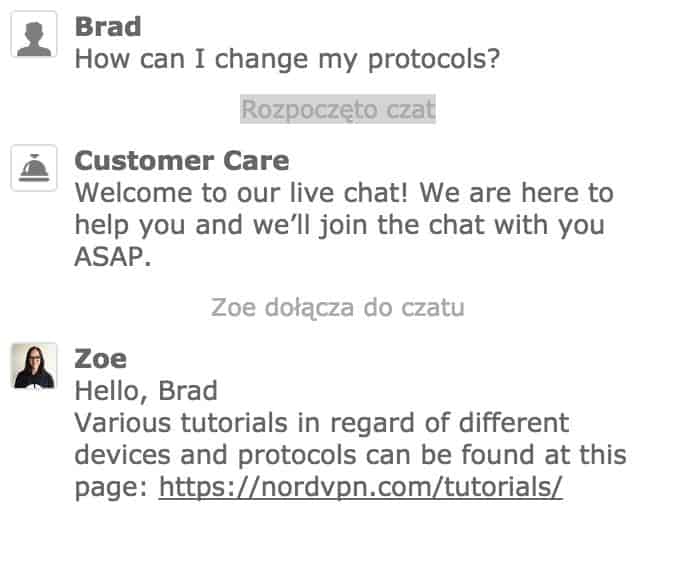 No different to the best of the best, NordVPN has recently begun offering 24/7 live chat that will assist you with any question you may have. I used their live chat twice, for an encryption question and an open-ended question.
Both times the Customer Support Rep was quick to help, but came with copy & paste answer.
Should you opt to use their email support, for more technical questions or if the live chat agent did not fully resolve your issue, you'll receive another assistant who will help you with your VPN.
Knowledgebase
Just as important as live assistance for minor questions is the vast directory of support articles you will have access to. For a topic as technical as networking, making it accessible to your everyday layman is no small task.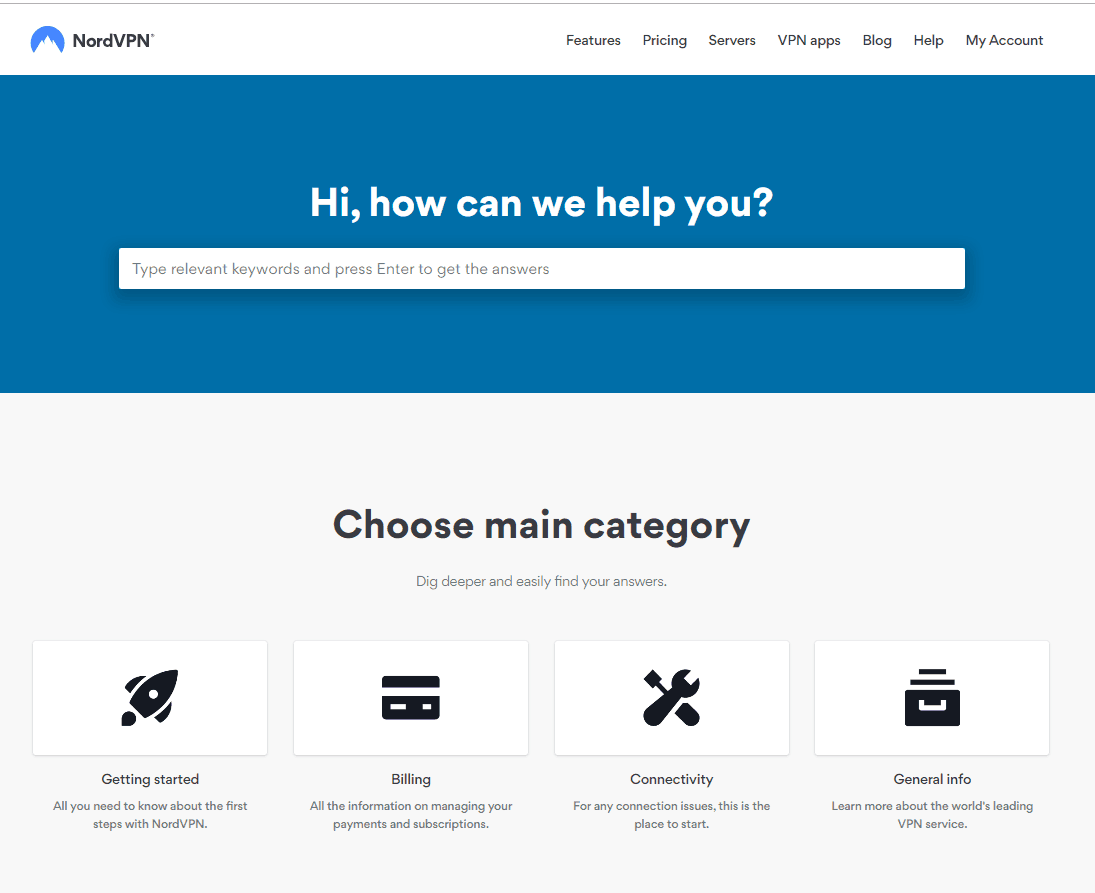 After going through their directory and quickly skimming to any support related page I could find, I estimate NordVPN to have well over 500 guides and tutorials.
NordVPN Cons
1. Company Not Transparent Enough
As stated above, upon my investigation, NordVPN seems to be linked with CloudVPN Inc – A company located in the U.S. which is in contradiction of what they state on their website.
But that doesn't mean they're not private or actually located in the USA.
They gave me a response, though…
And by thinking twice – it made a lot of sense to me. So I wouldn't section it to cons, though.
2. Refund Can Take ~30 Days
Although NordVPN offers 30 days money back guarantee, some of the people said that it works but not as fast as they expect it to.
According to them, it can take NordVPN up to 30 days to process your refund. I went into detail and asked the customer support about that, they told me that NordVPN process all refund requests 24 hours. It may take additional 1-7 days for your bank to refund your account, though.
While this isn't a big issue, it certainly isn't a very good user experience. Many VPNs provide instant refunds with a max waiting period of 7 days.
However, I wouldn't refund (nor didn't) NordVPN, so I doubt you'll need to use that feature at all.
NordVPN Pricing, Plans & Facts
Trying to forget the above, let's take a look at how much a subscription to NordVPN will set us back.
How much does it really cost?
Luckily, NordVPN's pricing is extremely simple and straightforward.
You have 4 different options:

What's more, you can buy it anonymously with bitcoin as well as with Credit Card or even AliPay. They don't accept PayPal, though.
Once paid, you can get access immediately and you're able to download their VPN software.
All those subscriptions come with a one-size-fits-all plan. Including:
No logging: Yes.
Ease of the VPN software: Signing up and using the app was VERY user-friendly.
Hidden fees & clauses: They cannot grant refunds if you purchased an app directly through the iTunes/App Store. Payments made using pre-paid cards or gift cards will not be refunded.
Upsells: No upsells.
DNS leaks: None.
Jurisdiction: Panama
Protocols: OpenVPN, IPSec, PPTP & L2TP.
Kill-switch: Yes.
Personally, I am all in favor of simplicity and fairness when it comes to pricing. Give me one plan all-inclusive plan and a few payment options and I'm happy. What's more, they don't set a bandwidth limit like many free VPNs.
Overall, when signing up for 3-years upfront, NordVPN is the cheapest VPN provider that we've reviewed till date.
Do I Recommend NordVPN?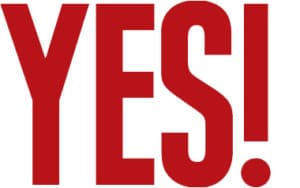 Hands down, I do recommend NordVPN.
It's secure, safe and fast. It's packed with top-notch security features plus it doesn't come with a huge learning curve as some other VPNs like TorGuard or AirVPN.
Their server park is the largest I know of, 5800+ servers in 60 countries.
The performance is steady and fast, combined with excellent security and ability to block geo-restrictions – they are rated 1st in our list of VPNs.
I strongly recommend NordVPN, especially if you're looking for a solid VPN and don't want to spend a fortune.
You can get a NordVPN $2.99 deal from here.